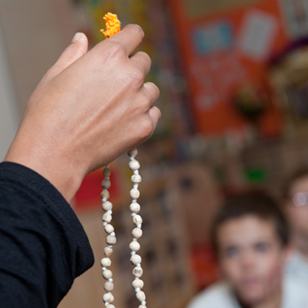 Collective Worship
Collective worship takes place in the Temple and in the classrooms. It includes opportunities to wear and apply tilak, chant japa, engage in kirtan, reflect, meditate, pray, and listen to stories and verses from scriptures.

Collective worship will help to:
Consolidate pupils' faith by providing positive spiritual experiences
Enrich the distinctive character of the school
Generate a culturally and spiritually nurturing atmosphere
Nurture pupils' self-esteem and their religious traditions
Help pupils become well-versed, self-reliant and skilled in worship
Develop pupils' critical and reflective thinking skills
Nurture the children's natural attraction for God
---
* Parents have the legal right to withdraw their child from collective worship and Religious Education; however, before making this decision, parents are requested to discuss their concerns with the Headteacher. Parents need to give in advance annual written notification to the school.
The school conducted a Philosophy, Religion and Ethics survey in May 2017. Please click on the link to view the results and parental feedback from the survey.
Click link here to view results: PRE Survey May 2017