The School
How Do We Differ?
Top Educational Standards
High educational achievement and standards have always been central to the Hindu community. At Krishna Avanti high standards and expectations are a top priority. Our aim is to stretch and challenge every child and thus facilitate their individual potential. We aim to enable children to become confident, articulate and motivated learners, and thus lay solid foundations for their future education, well-being and self-fulfilment.
Superb Facilities
At Krishna Avanti we are privileged to have the benefit of a brand new purpose built building, with spacious classrooms facing onto a beautiful temple courtyard, extensive play spaces, woodlands and an orchid garden.
Eco-friendly
A key aim at Krishna Avanti is to be one of the most eco-friendly schools in the country. Our building is equipped with a range of environmentally-friendly technologies, whilst the eco values permeate school life, including everything from the teaching to dining. Thus we help students adopt conscientious lifestyles that help sustain our planet, particularly by setting a practical example, nurturing respect for all life, and maintaining a simple, clean and ecologically-friendly environment.
Vegetarian
An important aspect of our ecological responsibility, respect for all life and promotion of good health manifests itself in a very practical way through a balanced vegetarian diet. Children are involved with aspects of growing, preparing, cooking and honouring their food.
Vaishnava Values
The School's faith partner is ISKCON (The International Society for Krishna Consciousness). ISKCON is a strand of Gaudiya Vaishnavism, part of the Vaishnava community, a monotheistic tradition that reveres Lord Vishnu. Vaishnavism is itself one of four main strands within Hinduism*. The School strives to nurture character and conduct consistent with Vaishnava virtues, most notably respect, empathy, honesty, self-esteem, self-discipline, thoughtfulness and appreciation of the divine. In line with these values, children are given opportunities to practice yoga, meditation and the arts.
* The other three main strands within Hinduism include 1) Shaivism - worshippers of Shiva 2) Shaktism - worshippers of Shakti, the Goddess 3) The Smarta Tradition - worshippers of five main deities
---
School Facilities

Music and performing arts form an important aspect of the School's curriculum and the School has a good range of musical instruments. This small hall adjoins both the School's main hall (gym) and purpose built marble temple where collective worship takes place on a daily basis. The temple opens up into a large outdoor courtyard that facilitates outdoor dining and learning. The School's main hall includes a theatrical stage, lighting and sound for school performances.

The sports facilities at the School are vast and cutting edge. There is a large all-weather pitch, ideal for football and rugby any time of the year, a grass pitch for hockey and tennis, an indoor gym for gymnastics, basketball and other indoor sports, and several different adventure play areas catering to the different key stage groups. The School also benefits from access to the adjoining grounds of Belmont Football Club where the club kindly provide a cricket pitch. For older classes, there is a separate girls changing area.

Outdoor landscaping provides for various learning facilities. Some of these facilities include a pond, wildlife gardens and an amphitheatre. The School's catering facilities include a purpose built kitchen capable of providing fresh, hot, healthy meals for children of Krishna Avanti and Sister School Avanti House.
---
Unique Working Partnerships
At Krishna Avanti Primary School we have established very strong partnerships with other schools in the Trust and in particular the new all-through Avanti House School. This partnership extends not merely to the sharing of good practice and an exchange of staff, but also joint pupil activities. We are also very proud of our links with the local community and the support we receive from our pupils, parents, faith partner and the Avanti Schools Trust.
---
Recent Awards
Krishna Avanti Primary School has been recognised with the following awards:

Breeam Award - awarded to those involved in the design and construction of the highest scoring buildings certified under Breeam that year.

Food Hygiene Award - awarded for good food safety management and high standards of compliance with food legislation

Cooperative Green Energy Award - awarded for the school for helping combat climate change.

Harrow Heritage Trust Award - awarded for outstanding architectural and environmental design.

RICS Award London - awarded for the school's commitment to the efficient use of resources and celebrates the schemes that provide sustainable environments.
---
The Crest for Krishna Avanti Primary School
In order to clearly communicate the three core values of the Avanti Schools Trust and its unique approach to education, a new emblem has been created. Sister schools such as Krishna Avanti Leicester, Avanti House Harrow and Avanti Court Redbridge share the Avanti ethos and therefore the crest as well.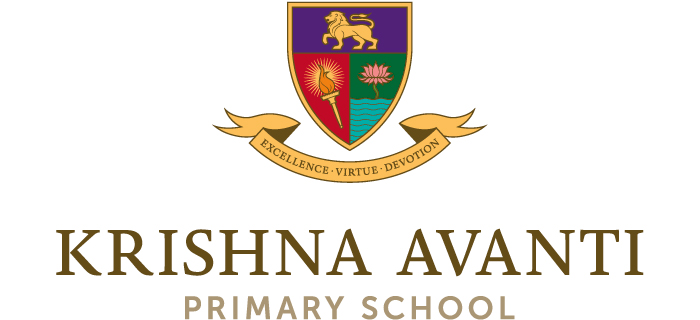 Our values are expressed in the crest in the following ways:

The torch represents educational excellence
The lion represents character formation
The lotus represents spiritual insight

The banner below the crest also conveys these ideas in single words - Excellence, Virtue & Devotion.
---
You can learn even more about these principles on our Ethos page »
---